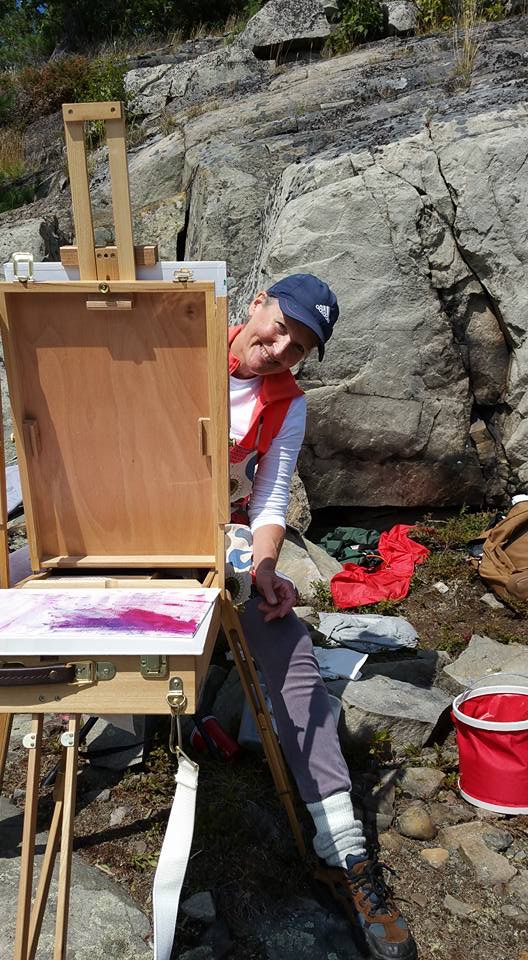 I am a graduate of OCAD, Ontario College of Art and Design University in Toronto. My previous career included magazine art direction, graphic design, and illustration. I enjoy the power and dynamics that graphic design and illustration techniques bring to my compositions and styles of fine art watercolour and acrylic painting. 
When I am painting with watercolours my choice of colour palette is purposely limited using the primary colours: a red, a blue and a yellow. Then I can create my other colours: the oranges, purples and greens. In doing so, there is an instant harmony in my paintings and a vibrancy that can be obtained in this way. One constant tradition (in true watercolour fashion) is I never use any white paint. The only white seen in my paintings is always the actual white of the paper.
I am also attracted to the strong colour intensity that I can achieve when using acrylic paints. It allows the end result to be a bright juicy coloured painting (please see my floral series of paintings in my acrylic gallery). Many of my acrylic landscape paintings are a result of my 'plein air' (on location) painting trips to the far northern regions in Ontario.  Sitting on that rugged shoreline while painting the surrounding breathtaking scenery is a dream come true.  Painting abstracts is also a passion of mine enabling me to play with colour, form and patterning with wild abandon that the acrylics allow. There are so many options and approaches I can take, it's a joy!
 I always enjoy the camaraderie and creativity of belonging to various art groups, organizations and co-operatives. These venues have kept me growing and learning from fellow artists. I also love sharing what I know, so I offer fun watercolour workshops for all different levels of ability. There are so many options and approaches I can take, it's a joy!
---